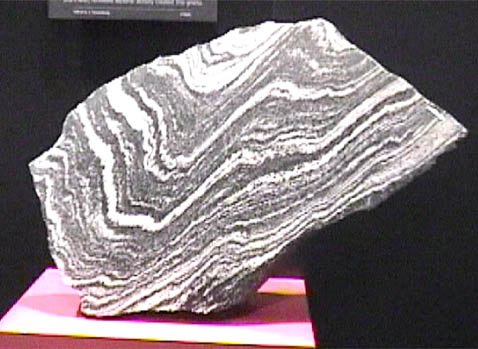 How to turn a post-doc into a professor: Apply heat and pressure. And hope for gneiss* results.
Research knows no sharp boundaries. Even when you think you are done with a particular project, it may still resurface years later. (I just submitted a review related to a paper published a while ago). Ideas take a while to gestate, move to the front burner, get proposed, get done, get written up, and published.
Teaching, on the other hand, seems to have all sorts of sharp boundaries. You either are teaching a class or you aren't. You are either done grading or you are in grading jail. Lectures aren't really done until their given, but then they are really done.
I haven't quite figured out whether the transition from post-doc professor has a sharp boundary or not.
Logistically, of course, it does. In just over two weeks, I am moving from Utopia to Mystery City with a stop in Midwest on the way. In just over two months, I will be teaching a class, residing in a new office, and advising a Ph.D. student. I will no longer be working for Dr. ABC, working part-time, or drawing a pittance of a salary.
Psychologically, though, I think the metamorphosis will be much more gradual. Projects that I am currently working on will continue to require my time, and I will still use Dr. ABC as an occasional sounding board. For a while at least, I will still think of my mother when somebody refers to me as Dr. Sciencewoman and I will continue to collaborate with my colleagues here in Utopia. I will feel like the new kid, trying to figure out the rules of the game in a new place. Eventually though, maybe after I've gotten a grant or two funded and recruited some students to work on my projects, once I've learned where the faculty park and where to make photocopies, maybe the second time I get to teach a particular class, I will realize that I am fully an assistant professor.
But, those who have gone before lead me to believe that the boundary will feel sharp. I remember
Dr. Mom
likening her first semester as faculty to being thrown up a cliff. A friend reported being overwhelmed by going from being a post-doc to having grad students, a lab tech, and his own post-doc within a few months. Many have told me that the first year as faculty is incredibly intense, as you have to ramp up your teaching, research, and service obligations all at once.
* The picture is of a
gneiss
(courtesy
Georgia State U.
), a
metamorphic rock
. Metamorphic rocks form from other rocks (igneous or sedimentary) that are subjected to heat and pressure. There are some definite characteristics used to identify metamorphic rocks, but there is not always a sharp boundary, as a google search of quasi-metamorphic rocks will reveal.
Migmatite
is one example.
scientiae-carnival